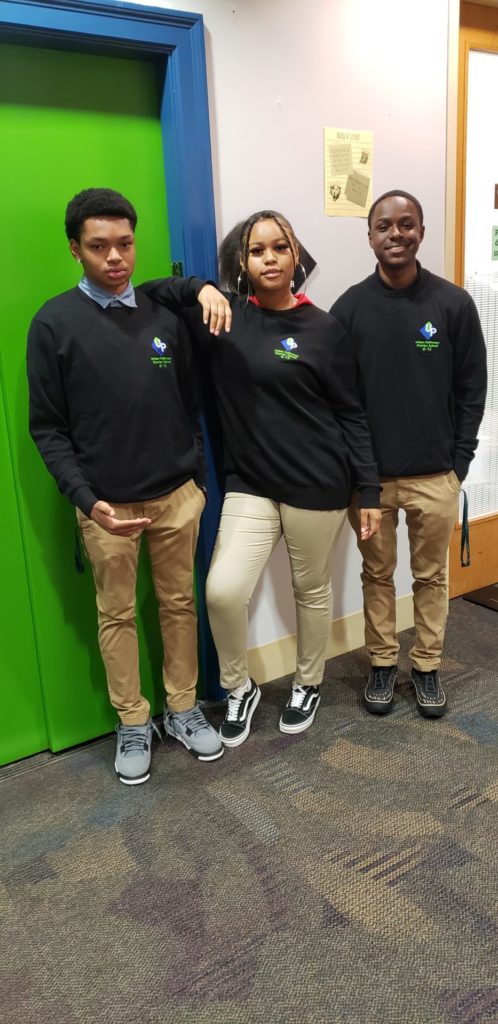 Students at UPCS are required to wear uniforms.

The mission of Urban Pathways 6-12 Charter School (UPCS) is to help every child find a pathway that leads toward a successful adult life in the city environment and beyond. Our school has a well-defined dress code in order to educate our students about presenting themselves as professional and competent citizens and employees. It is our goal and desire to have UPCS students look and act professionally as they move forward.
While you are free to purchase your uniform from the provider of your choice we have partnered with Pro3 http://www.pro3services.com/ for uniform tops and pants.
MIDDLE SCHOOL DRESS CODE (Grades 6-8)
| | | | |
| --- | --- | --- | --- |
| Clothing Item | Required or Optional | Permitted | Not Allowed |
| Shirts | Required | Collared Polo style, short or long sleeved Solid colored – white, blue, green, or black UPCS logo only Tops must be long enough to be tucked into pants and stay tucked in the course of normal movement throughout the school day | Patterns or stripes Any color other than white, blue, green, or black Any non-UPCS logo Shirts, sweaters, or blouses that leave the stomach showing Sleeveless, strapless, spaghetti straps Sheer, see-through shirts or blouses are prohibited |
| Undershirt | Optional | Solid white or black tee shirts Do not show under or past sleeves Solid black or white turtleneck | Untucked Patterns or stripes |
| Pants | Required | Uniform pants Worn at the natural waist Khaki or navy blue only Cotton, corduroy, wool, or knit material | Shorts of any kind Denim pants of any color Pants with outside patch pockets Cargo style pants Elastic or Drawstring at the waist Elastic at the cuffs Jogger style pants Leggings or yoga pants or spandex Rivets on pockets Skirts or dresses |
| Sweaters | Optional | Only UPCS Sweaters (Available for sale at the main office) | Any non-UPCS sweater |
| Belt | Recommended | Less than 2" wide Belt buckles less than 3" wide | Ornamentation Studs |
| Shoes | Required | Any color shoes with closed heel and toe Boots (must be below the knee) Athletic footwear or tennis shoes Heels under 2" tall | Sandals, slides, or slippers Moccasin style shoes Heels over 2" tall Boots over the knee. Crocs |
| Jewelry | Optional | Should not present a safety concern | |
| Headwear | Optional | Headbands (must be worn above the forehead at the hairline) please see picture for reference Headwraps/headscarves | Hats Outerwear or athletic headbands Bandanas Du-rags or skull caps Shower caps or satin bonnets Picks, combs, or brushes |
HIGH SCHOOL DRESS CODE (Grades 9-12)
| | | | |
| --- | --- | --- | --- |
| Clothing Item | Required or Optional | Permitted | Not Allowed |
| Shirts | Required | Collared Polo or button down style Quarter sized or smaller logo Short or long sleeves Tops must be long enough to be tucked into pants and stay tucked in the course of normal movement throughout the school day | Large logos Shirts, sweaters, or blouses that leave the stomach showing Sleeveless, strapless, spaghetti strap Sheer, see-through shirts or blouses are prohibited |
| Undershirt | Optional | Solid white or black tee shirts Do not show under or past sleeves Solid white or black turtleneck | Untucked Patterns or stripes |
| Pants | Required | Uniform pants Worn at the natural waist Khaki or navy blue only Cotton, wool, or knit material | Shorts of any kind Denim pants of any color Pants with outside patch pockets Cargo style pants Elastic or Drawstring at the waist Elastic at the cuffs Jogger style pants Leggings or yoga pants or spandex Rivets on pockets Skirts or dresses |
| Sweaters | Optional | Only UPCS Sweaters (Available for sale at the main office) | Any non-UPCS sweater |
| Belt | Recommended | Less than 2" wide Belt buckles less than 3" wide | Ornamentation Studs |
| Shoes | Required | Shoes with closed heel and toe Boots (must be below the knee) Athletic footwear or tennis shoes Heels under 2" tall | Sandals, slides, or slippers Moccasin style shoes Heels over 2" tall Boots over the knee. Crocs |
| Jewelry | Optional | Should not present a safety concern | |
| Headwear | Optional | Headbands (must be worn above the forehead at the hairline) please see picture for reference Headwraps/headscarves | Hats Outerwear or athletic headband Bandanas Du-rags or skull caps Shower caps or satin bonnets Picks, combs, or brushes |
Photo Examples
Allowed
Not Allowed
(Patch Pockets)
Allowed
Allowed
Not Allowed
Not Allowed