Join us for the opportunity to make real CHANGE in the community, and share the experience with other teens throughout Pittsburgh!
See Ms. Washington if you would like to participate.
How CHANGES works:
From September, 2023 to May 2024, we will host a volunteer event once a month, for 3 hours. There will be 9 total volunteer opportunities. We will always begin our events by meeting at Sarah Heinz House. Some events may occur at Sarah Heinz House, while others we may walk to or be transported to. Most importantly, each student will be given a swag-bag at the end of each meet-up to celebrate the important volunteer work being done!
are always looking for new members to experience what we have to offer!
What is Sarah Heinz House?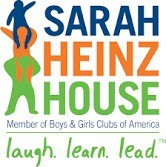 SHH is a non-profit, afterschool program that offers a variety of activities for members to engage with. Activities include STEM/Robotics, Gym, Club, Swimming, Dance, and more! We welcome students ages K-12, and
Questions? Contact kroutch@sarahheinzhouse.com or visit www.sarahheinzhouse.org